by Kathleen Long Bostrom – Westminster John Knox Press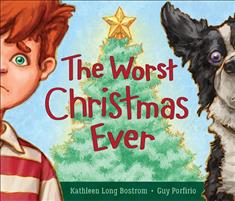 Learn more and purchase from:
Now that his family has moved to California, Matthew has doubts as the holiday season approaches. Palm trees? No snow? It's all wrong.
Little sister Lucy thinks everything is wonderful, but Matthew knows better. And to top it off, the sudden disappearance of his beloved dog, Jasper, settles it. This will be the worst Christmas ever.
Or will it? Surprising events on Christmas Eve just might change everything—and maybe this new place can feel like home to Matthew after all.
"Expressive artwork in bright colors shines with holiday cheer, even when the smiles are hard to come by, in this text that focuses on themes of faith, family, community, and home." —Foreword Reviews
"A wonderfully entertaining picture book story for children ages 3-7, The Worst Christmas Ever by the team of author Kathleen Long Bostrom and illustrator Guy Porfirio is an especially welcome and recommended addition to family, daycare center, preschool, elementary school, and community library picture book collections for the holiday season." —Midwest Book Review"A poignant story that inspires children to look for the promise of Christmas in surprising places…a favorite seasonal read aloud that would be asked for throughout the year as well." —Celebrate Picture Books
"The story ties home and family to Christmas. This pairing reaffirms the non-commercial aspects of Christmas…The bright and detailed illustrations by Guy Porfirio add lots of movement and drama to the story. The artwork is bold and has some humor. Recommended for school and classroom libraries, homeschool collections, or personal libraries." —Catholic Library World