by Glenys Nellist – Zonderkidz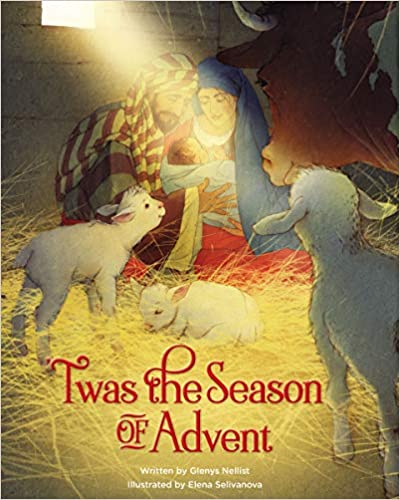 Learn more and purchase here:
Begin a new Advent family tradition with this beautiful celebration of the season! Fill your hearts with joy as you read and reflect on this most special of seasons in our faith.
From Glenys Nellist, the bestselling author of the Snuggle Time and Love Letters from God series as well as the holiday favorites 'Twas the Evening of Christmas and 'Twas the Morning of Easter, comes 'Twas the Season of Advent, a beautiful and heartwarming celebration of Advent that's perfect for the entire family. Perfect as a family devotional, each day of Advent is celebrated with stories from the Old and New Testaments, highlighting the promise of Christ's birth.
Written in both prose and poetry, 'Twas the Season of Advent will engage children and adults alike and become a new holiday tradition for families everywhere!
'Twas the Season of Advent:
Written in prose and poetry to appeal to all ages, especially 4-8      year olds
Brings Advent to life with Scripture as well as the lovely      storytelling of Glenys Nellist
Beautiful artwork done by Elena Selivanova
Perfect gift for the family as they prepare for the Christmas      season
Portions written in the familiar rhyme scheme of Clement Moore's Twas      the Night Before Christmas
A day-by-day Advent adventure for families to share together. Beginning on Dec. 1 with an introduction to the season of Advent and this book, and ending on Dec. 25 with just a short rhyme, Nellist's text familiarizes children with the Christmas season and events ranging from Genesis' 'Let there be light' and Isaiah's foretelling the birth of a baby to Mary's visit with Elizabeth and the arrival of the Magi after Jesus' birth (on Dec. 21 here). A rhyming verse starts each day's entry…the bulk of each page explains the Bible verse that follows the rhyme and humanizes the main characters: Joseph's indecision about marrying a pregnant Mary, the job of a shepherd, and the treasure box of memories that Mary stored in her heart. The entry ends with a brief prayer: 'Dear God, thank you for Mary who was so brave and trusted you. When I need to be brave, help me remember that you are with me.'…Jewel-toned illustrations in luminous colors and lots of detail fill half of each spread. All the people, save the three Magi, are Middle Eastern in skin color, facial features, and dress. A religious centering amid the run-up to Christmas. — Kirkus Reviews