by Amber Cantorna – Westminster John Knox Press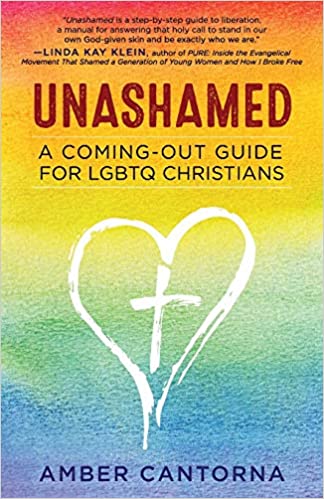 Learn more and purchase from:
On a daily basis, author and LGBTQ advocate Amber Cantorna receives emails asking the same question: How does one reconcile their sexuality with their faith? Depression, despair, and thoughts of suicide often haunt LGBTQ Christians as they feel unable to imagine the possibility of living a happy, fulfilling life as an LGBTQ person of faith.
As the gay daughter of a thirty-plus-year executive of conservative Christian organization Focus on the Family, Amber lost everything when she came out as gay in 2012. However, her journey to embrace her authenticity brought her fulfillment and wisdom to share. Unashamed serves as a guide for Christians considering coming out, tackling tough subject matters such as demolishing internalized homophobia, finding an affirming faith community, reestablishing your worth as a child of God, navigating difficult family conversations (especially in cases where family is involved in church leadership/ministry), and healing from the pain of rejection. Unashamed encourages LGBTQ Christians to embrace their unique identities and to celebrate the diversity placed inside them by God. 
"The catalyst for Cantorna's guide was the realization that 'coming out to conservative families [is] tremendously underrepresented in the LGBTQ Christian community.' She goes a long way toward changing that with this extremely helpful and accessible guidebook that is filled with practical and commonsensical advice."
—Booklist
"Amber Cantorna has done it again. After the success of her book Refocusing My Family, Amber has returned with a practical, readable guide to the challenges of living authentically. In Unashamed: A Coming-Out Guide for LGBTQ Christians, Amber speaks with the wisdom of someone who has lived through the kind of shame only evangelicalism can impart. For those with the courage to let the world know who they are, Unashamed will guide you, lovingly and competently, one step at a time."
—Paula Stone Williams, Pastor, TED speaker, LGBTQ advocate
"As the mother of a gay son, I wish my child would have had Unashamed when he came out. With practicality, compassion, and wisdom that comes from personal experience, Amber Cantorna broaches coming out in a way that no other book has done. As both a mother and the leader of Free Mom Hugs, I will most definitely recommend this book to all LGBTQ Christians who are on the journey of embracing their deepest, truest selves."
—Sara Cunningham, founder of Free Mom Hugs and author of How We Sleep at Night: A Mother's Memoir
"As the gay, closeted son of a Southern Baptist pastor, I didn't think I'd ever come out. It was too scary. But in my late 20s, I began to plan my coming-out process. I was paralyzed with fear. I had no guidance, no resources, and very little confidence. I felt like the only person in the world who'd gone through this. Thanks to Amber Cantorna's book Unashamed, no closeted Christian LGBTQ person should ever have to feel that way again. This book clearly and practically lays out a set of best practices for people who want to come out but aren't sure how. Coming out is never easy, but, thanks to Amber, it just got a whole lot easier."
—B. T. Harman, creator of the blog and podcast Blue Babies Pink
"This is Amber Cantorna at her best! She takes the nitty-gritty experiences that every LGBTQ person of faith experiences and breaks them down in an incredibly accessible way. Everyone who reads this book will leave with a greater understanding of what it is to be queer and a deeper understanding of steps to take that will lead toward wholeness in accepting God's love for all. Reading it feels like having a personal coach on all things LGBTQ and Christian. It's just so good!"
—Candice Czubernat, founder and therapist at the Christian Closet
"I wish I could go back and give this book to fifteen-year-old me. Amber has expertly consolidated advice born from people who have previously walked this road of faith and coming out. If you find this book in your hands, consider yourself lucky. May it enlighten you on your path."
—Matthias Roberts, psychotherapist and host of Queerology: A Podcast on Belief and Being
"Unashamed is a step-by-step guide to liberation, a manual for answering that holy call to stand in our own God-given skin and be exactly who we are. No apologies. No atonement. Cantorna speaks plainly to the threats—internal and external—faced by many LGBTQ+ Christians and offers strategies first for survival and, in time, for roaring freedom."
— Linda Kay Klein, author of PURE: Inside the Evangelical Movement That Shamed a Generation of Young Women and How I Broke Free, and founder of Break Free Together
"Unashamed: A Coming-Out Guide for LGBTQ Christians is bound to be an enduring addition to the resource shelf for LGBTQ Christians and others seeking to support them. Speaking with the authority of someone who has persevered through her own difficult coming out, Amber Cantorna puts into words the lessons many of us have had to learn through hard-fought trial and error. What's most compelling about the book is the breadth of wisdom it offers on the coming-out process, from the practical (such as considering one's safety and self-sufficiency before coming out) to the emotional (such as tending to one's own grieving heart in the face of rejection). This book is full of candid advice that is relevant to anyone navigating the challenging season of coming out."
—David and Constantino Khalaf, authors of Modern Kinship: A Queer Guide to Christian Marriage
"Unashamed is a heartfelt, supportive resource for LGBTQ Christians finding their place in the church and in the world. I'm so glad Amber Cantorna created such a vital and important work."
—Mike McHargue, host of Ask Science Mike and author of Finding God in the Waves
"Every new journey can be terrifying, none more so than the path to a more authentic version of ourselves. In Unashamed, Amber Cantorna provides a clear, encouraging, and life-giving travel companion for LGBTQ Christians—and the people who love them—walking into the wide-open spaces of their truest selves. It will be an invaluable tool for those navigating the personal and relational challenges of coming out, and essential reading for allies hoping to walk alongside well."
—John Pavlovitz, author of A Bigger Table and Hope and Other Superpowers
"Amber Cantorna's Unashamed is a rich yet intensely practical resource for every LGBT+ person who is wrestling to step out of the closet within a Christian context. For so many LGBT+ Christians, there is a profound sense of loneliness and disorientation as we seek to navigate coming out and reconciling our faith and sexuality. This book boldly shines the light of truth and love, helping to guide the reader on a path away from shame and toward wholeness as they embrace their God-given queer identity. I will be recommending this book to the many brave LGBT+ Christians I know who are embarking on this journey of liberation."
—Brandan Robertson, Lead Pastor, Missiongathering Christian Church in San Diego and author of True Inclusion: Creating Communities of Radical Embrace