by Patricia Raybon – Thomas Nelson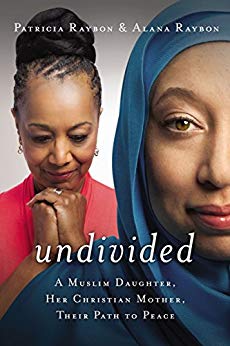 Learn more and purchase from:
"Mom, I have something I need to tell you…"They didn't talk. Not for ten years. Not about faith anyway. Instead, a mother and daughter tiptoed with pain around the deepest gulf in their lives – the daughter's choice to leave the church, convert to Islam and become a practicing Muslim. Undivided is a real-time story of healing and understanding with alternating narratives from each as they struggle to learn how to love each other in a whole new way.
Written with rare honesty and striking transparency, Undivided opens a door on the lives of an American Islamic convert, Alana Raybon, a dedicated educator, and her devout Christian mother, Patricia Raybon, an award-winning author, as they struggle to reconcile and heal their family divided by faith.
An important work for parents whose adult children have left the family's belief system, it will help those same children as they wrestle to better understand their parents.
For anyone troubled by the broader tensions between Islam and the West, this personal story distills this friction into the context of a family relationship–a journey all the more fascinating. While a conversation is desperately needed in America between Christians and Muslims, Undivided offers a real-time conversation to follow.
Undivided is a tremendously important book for our time.  Will Patricia be able to fully trust in the Christ who "holds all things together?"
Will Alana's love for God cause her to become an outcast to her family–or provide a path that leads her back home?  And can they answer the question that both want desperately to experience: "Can we make our torn family whole again?"
"Powerful and beautiful. Captivating." — Samuel E Karff, Rabbi Emeritus of Congregation Beth Israel, Houston.

"I was riveted to the end. As fresh as this evening's news…it's going to make a huge impact." – Jerry B. Jenkins, Novelist and Biographer
"Patricia and Alana Raybon capture the essence of the national conversation that needs to happen between Christians and Muslims. Intensely personal and deeply spiritual."– The Rev. Mike Cole, General Presbyter, Presbytery of New Covenant in the Presbyterian Church (U.S.A.)
"Undivided left me gutted–in a good way. Here is raw honesty. Help for every one of us who finds ourselves facing the inexplicable differences between ourselves and our loved ones." — Elisa Morgan, Speaker, Author: The Beauty of Broken, Co-Host Discover the Word