by Steven Johnson – Penguin Random House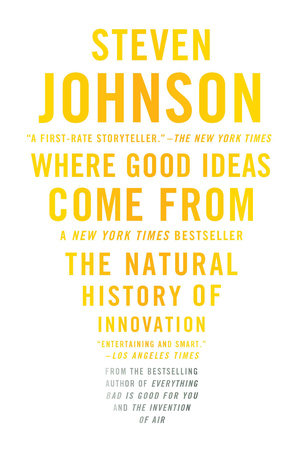 Purchase from:
A fascinating deep dive on innovation from the New York Times bestselling author of How We Got To Now and Unexpected Life
The printing press, the pencil, the flush toilet, the battery–these are all great ideas. But where do they come from? What kind of environment breeds them? What sparks the flash of brilliance? How do we generate the breakthrough technologies that push forward our lives, our society, our culture? Steven Johnson's answers are revelatory as he identifies the seven key patterns behind genuine innovation, and traces them across time and disciplines. From Darwin and Freud to the halls of Google and Apple, Johnson investigates the innovation hubs throughout modern time and pulls out the approaches and commonalities that seem to appear at moments of originality.
"[A] rich, integrated and often sparkling book. Mr. Johnson, who knows a thing or two about the history of science, is a first-rate storyteller."–"The New York Times"
"A vision of innovation and ideas that is resolutely social, dynamic and material…Fluidly written, entertaining and smart without being arcane."–"Los Angeles Times"
"A magical mystery tour of the history and architecture of innovation."–"The Oregonian"
"A rapid-fire tour of 'spaces' large, small, mental, physical, and otherwise… Where Good Ideas Come From may be the ultimate distillation of his thinking on these issues… One admires the intellectual athleticism of Johnson's maneuvers here."–"Boston Globe"