by Jennifer Butler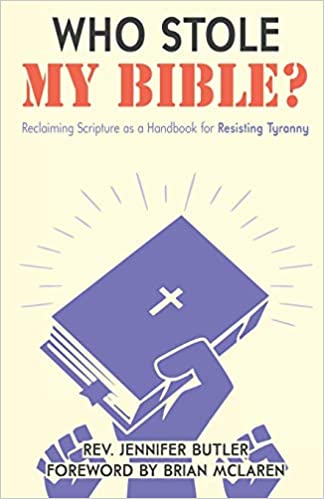 Learn more and purchase from:
"Butler's writing is personal, imaginative, accessible, and compelling. I found it to be an empowering page-turner." —Walter Bruegemann
The Bible has been hijacked. We've all seen examples of sacred scripture being used and abused to justify racism, sexism, reactionary politics, and even violence. If you have ever found yourself wondering what Bible some of your fellow believers are reading, then you are not alone. With a foreword from Brian McLaren, Who Stole My Bible?: Reclaiming Scripture as a Handbook for Resisting Tyranny shows how the Bible from Genesis to Revelation is an inspiring handbook for finding your voice for resisting oppression of any kind.
Jennifer Butler loved the Bible and her Christian faith, but then was disillusioned when it was used against her as a woman. Instead of leaving religion, she found a fresh approach to faith as liberation, and would go on to become an ordained minister and founder of Faith in Public Life, an advocacy organization.
Scripture is replete with stories of those who followed God's call to resist oppression and fearlessly pursue compassion, justice, and human dignity. Chapters focus on the liberating God of the Hebrews, the authoritarianism of King Solomon, the dream team of women in the Bible, and how Jesus came to bring truth and expose the lies of rulers. Each chapter illustrates the lessons of scripture with true stories of courageous religious communities countering authoritarianism and white supremacy in America today.
This book will help you connect with generations of prophets and leaders who followed God's call and prevailed against power to establish justice and community. If you have been burned and disregarded by the church, this book is for you. If you are on the verge of leaving your church because of the bigotry you see among Christians, this book is for you. Jennifer Butler once again rediscovered her Christian spirituality and her love of understanding the Bible in this work, and if you want to deeply connect your faith with your commitment to a more just and compassionate world, this book is for you.
Jennifer Butler's Who Stole My Bible? is a revelation. Among the saddest moments in church history were the moments when multiple streams of the church began to distance themselves from the Bible. In the zeal of the scientific age and in response to white supremacy whole church streams wrote off the Bible as defunct, old-hat, rusty, irrelevant, and the problem itself. In Who Stole My Bible?, Butler shows us these pervasive analyses erase the Brown, colonized, resisting skin and flesh of the writers of these ancient texts.
-Lisa Sharon Harper, author of The Very Good Gospel and president and founder of Freedom Road
Who Stole My Bible? is a bold and beautiful call to every Christian to resist empire and manifest the Reign of God on earth. By brilliantly weaving together a liberative exegesis of biblical texts, a thoughtful exposition of current reality (sitz im laben) and a helpful analysis of models of leadership that work, Jennifer Butler creates a practical map for each of us to reclaim scripture-and the Jesus to which it points-as a way to heal our broken world. This is a poignant, prophetic, and practical must-read book for all Christian leaders, clergy and lay.
-Rev. Dr. Jacqueline J. Lewis, senior minister, Middle Collegiate Church
Too often the Bible has been used to defend the indefensible and to justify oppression, inequality, exclusion, and all sorts of ungodly things. In this book, my friend Rev. Jen Butler reclaims the Bible as a blueprint for revolution-a revolution of love and compassion and justice.
-Shane Claiborne, author, activist, and co-founder of Red Letter Christians
Jennifer Butler walks the path of faith with the grit of a soldier, compassion of a first responder, creativity of an artist, and unyielding moral voice of a prophet. This book calls to those bruised by religion to witness the healing waters of reclaimed faith while demanding long time practitioners to preach Jesus through embodied action versus shallow slogans and harsh judgment. This is the book to pass on to the spiritual exile and the overly pious believer; each will find joy and common ground in this beautifully written publication.
-Otis Moss, III, senior pastor, Trinity United Church of Christ