by Susan K. Williams Smith – Judson Press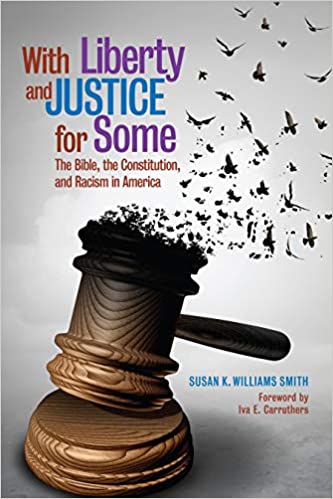 Learn more and purchase from:
In this provocative new book from prophetic preacher and pastor Susan Williams Smith, the author tackles the truths that the church in the United States has long held to be self-evident""that ours is one nation under God, that our U.S. Constitution is (almost) as infallible as the Holy Bible, and that democracy and its principles of justice for all are sacrosanct and protected by both God and government. Yet, history and headlines alike expose the fallacy of those assumptions, particularly when viewed in the light of a national culture of white supremacy and systemic racial injustice. In fact, Smith argues, the two texts we count as sacred have not been merely impotent in eliminating racism; they have been used to support and sustain white supremacy. This important work examines how our foundational documents have failed people of color and asks the question, Can those whom a nation has considered "we the problem" ever become "we the people" who are celebrated in the Preamble to the Constitution? What will it take to reclaim the transforming and affirming power of God and government to secure liberty and justice for all?
With Liberty and Justice for Some is a brilliantly written, well-researched, must-read book for such times as these. Turning a historical, theological, and exegetical lens on three texts: the Bible, the Constitution, and the text that is American racism, Susan K. Williams Smith invites the light of truth to shine on our sitz im laben in order to heal the soul of our nation, illuminating a just path to create an antiracist heaven on earth. Reading, we are compelled to be the Christians we say we are and to fulfill the prayer we pray when we gather for worship. Without blame and with a big-hearted invitation, this book is an altar call to come, see, and taste the new thing God wants to do in and through us. For preachers, for professors and students, for people in the pewsyoull soon have a dog-eared copy to which you will return again and again. –Rev. Jacqueline J. Lewis, PhD, Senior Minister, Middle Collegiate Church, New York; Author, The Power of Stories: A Guide for Leading Multi-Racial and Multi-Cultural Congregations
Neither the Bible nor the Constitution protected Black Americans from the power and prerogatives of white supremacy. That is the eye-opening conclusion reached in this important new book by Susan K. Williams Smith. This book explores, examines, and then explains how two different versions of Christianity have held sway in this country from its inception. How can white Christians who read the same Bible as Black Christians allow for and justify the physical enslavement and economic exploitation of their fellow believers? Williams Smith answers that question by leading the reader on a journeyfrom the encounter of Christianity with the Roman Empire, to a slave castle in Ghana, to the centuries of slavery and racial segregation in the United States, and finally to the racial tensions that continue to divide this country today. This is a journey worth taking with a gifted and insightful guide. –Marvin A. McMickle, PhD, Retired President and Professor of African American Religious Studies, Colgate Rochester Crozer Divinity School; Pastor Emeritus, Antioch Baptist Church, Cleveland, OH
Susan Smiths meditations are like piercing rays of light in the present dark times, the consequences our politics, greed, and wayward choices have inflicted upon humanity. COVID-19 has mercilessly exposed the long-existing fractures and fault lines in our societies. With these meditations on American faith, the American Constitution, and American politics, Susan Smith does the same. But she is equally relentless in her message of hope, her inspiration toward courage, her call for steadfast faith in times of great convulsions. A wonderful book one puts down only to pick up again. –Allan Boesak, Professor of Black Liberation Theology and Ethics, University of Pretoria, South Africa; Member, Martin Luther King Jr. International Board of Preachers