by Adam Hamilton – Convergent Books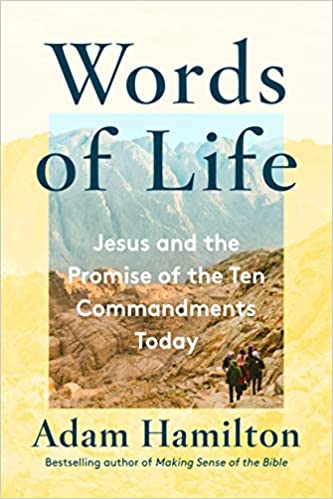 Learn more and purchase here:
What if the Ten Commandments were not just a set of ancient rules, but a guide to experiencing the good life today?
"Adam Hamilton is a teacher of the highest order, able to bridge the gap between very old divine teaching and very current human reality."—Barbara Brown Taylor, author of Always a Guest: Speaking of Faith Far from Home
Nearly everyone has heard of the Ten Commandments, the list of "thou-shalt-nots" found in the Bible. Jesus saw these commandments not as onerous burdens, but as guideposts to help us experience a good and beautiful life. These ten ancient "words" were given to us by a loving God who longed to set safe boundaries, create order out of chaos, help communities live peacefully, and protect us—often from ourselves.
In this book of Scripture and inspiration, bestselling author Adam Hamilton brings modern eyes to the most important set of ethics in history. He considers the commandments in their historical context, considering the meaning of each commandment in Hebrew, unpacking how Jesus reinterpreted them, and showing how every thou-shalt-not was intended to point to a life-giving "thou shalt." He also explores how the latest research in science and psychology illuminates these commandments, rightly understood, as a way of ordering one's life beautifully in the present day. In a culture marked by workaholism, materialism, and social media-driven envy, God has given us a time-tested path that leads to gratitude, confidence, and peace.
A landmark work from one of our most trusted biblical thinkers, Words of Life is an inspiring, thought-provoking read for anyone seeking to live a meaningful and joyful life.
"Right after Sinai, Moses declared, 'Not with our ancestors did the Lord make this covenant, but with us, who are all of us here alive today.' In our generation of moral relativism and ethical confusion, Hamilton has a powerful voice for ethical clarity and moral imagination. Here he takes up 'the big ten' and in a winsome study shows how the commandments both mandate us and yield new life for us. Hamilton is a master teacher and offers his work in a way that is accessible and persuasive."—Walter Brueggemann, professor emeritus, Columbia Theological Seminary, author of The Prophetic Imagination

"What a thoughtful, timely exploration of the Ten Commandments! Many of us slip into believing that there's no more for us to learn from these familiar passages, but Hamilton's smart, clear writing brings new understanding and new inspiration to this lifelong Christian. . . . A grounding and challenging book that I'll be recommending over and over—to both younger and more mature Christians alike."—Shauna Niequist, New York Times bestselling author of Present Over Perfect
"Biblically faithful, personally courageous, and pastorally sensitive, Hamilton shows how the Ten Commandments provide necessary guidance for today's troubled times."—Amy-Jill Levine, University Professor of New Testament and Jewish Studies, Vanderbilt Divinity School