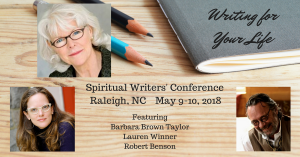 Writing for Your Life welcomes you to St. Mark's United Methodist Church in Raleigh, NC for our Writing for Your Life Spiritual Writers' Conference! The conference is open to all who are interested in spiritual writing. It includes popular Christian authors and representatives from the Christian publishing industry. The main conference will take place on May 9-10, 2018, with an optional pre-conference DigDeeper Retreat (separate registration required) on May 8.
Headline speaker for the event is Barbara Brown Taylor. Leading our DigDeeper Retreat and two main conference breakout sessions will be Robert Benson. Additional breakout sessions with: Lauren Winner (author and professor), Jeff Chu (author and journalist), Susan Salley (Assistant Publisher, Abingdon Press), Greg Johnson (President, WordServe Literary Agency), Joyce Dinkins (Executive Editor, Our Daily Bread Ministries)  Margot Starbuck (author and consultant), and Brian Allain (marketing guru and Director of the Frederick Buechner Center).  You can learn more about each speaker through the links below.
Tuition for the main conference is $359 and includes all General Sessions and Breakout Seminars, snacks and beverages during registration and breaks, one-on-one meetings, and an open-mic evening session.
Writing for Your Life is pleased to offer 1.1 Continuing Education Units (CEUs) for pastors for this writers' conference. Writing for Your Life is a member of the Association of Leaders in Lifelong Learning for Ministry (formerly the Society for the Advancement of Continuing Education for Ministry).
Registration Now Open! Click on the link below to pay now and complete your registration (PayPal or credit/debit card accepted)
CLICK HERE to pay now and complete your registration.
Click on the links below for additional information.
Also Included: One-on-one meetings, Self-forming groups, Open mic, Bookstore
DigDeeper Retreat (separate registration required; additional 0.5 CEUs available)
List of nearby restaurants for lunch: http://visitnorthhills.com/locations/category/dine/
Downloadable North Hills map and directory: https://writingforyourlife.com/download/3054/
Registration Now Open! Click on the link below to pay now and complete your registration (PayPal or credit/debit card accepted)