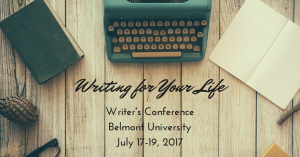 Registration Now Open!
Belmont University welcomes you to the inaugural Writing for Your Life Writer's Conference! The conference is open to all who are interested in spiritual writing. It will include popular Christian authors and representatives from the Christian publishing industry. The main conference will take place on July 18-19, 2017, with a pre-conference Advanced Writer's Retreat on July 17. The conference and retreat will take place at the beautiful Janet Ayers Academic Center on the campus of Belmont University.
Headline speakers for the event are Barbara Brown Taylor and Rachel Held Evans. Speakers also include: Robert Benson (author), Jeff Chu (author and journalist), Greg Daniel (literary agent), Robbie Pinter (author and professor), Erin Healy (author), Tony Jones (Fortress Press and author), Susan Salley (Abingdon Press), Sophfronia Scott (author), Margot Starbuck (author and book consultant), and Webster Younce (Thomas Nelson).  You can learn more about each speaker through the links below.
Early-bird tuition for the main conference is $325, through June 1, and includes all General Sessions and Breakout Seminars, lunches, snacks and beverages during the breaks, one-on-one meetings, and an open-mic evening session. After June 1 tuition will be $349.
Click here to register
Click on the links below for additional information.
Also Included: One-on-one meetings, Open mic, Bookstore
Advanced Writer's Retreat (separate registration required; additional 0.5 CEUs available)
Click here to register
Writing for Your Life is pleased to offer 1.1 Continuing Education Units (CEUs) for pastors for this writer's conference. Writing for Your Life is a member of the Association of Leaders in Lifelong Learning for Ministry (formerly the Society for the Advancement of Continuing Education for Ministry).