by Mary Ann Archer – AK Classics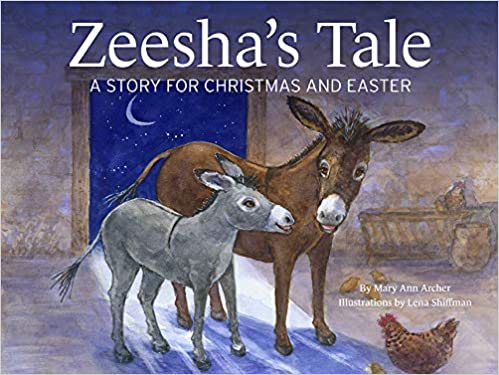 Learn more and purchase from:
A young donkey learns from his wise mother to trust in God through good times and bad as he hears a bedtime story about his ancestor – Balaam's donkey, his mother's long-ago trip to Bethlehem, and his own task for the next day.
"Tomorrow you will be ridden by a stranger," said Zeesha's mother to him softly one night.
A story came to me one day that tied together three biblical donkeys and two strands of spirituality I've come to treasure – Celtic imagination, where donkeys can talk and angels are visible – and child's version of the Ignation First Principal and Foundation, where each creature's unique character is truly God's glory. – Mary Ann Archer
Mary Ann Archer is a spiritual director, retreat leader, and professional flutist/piccoloist. She received her master of arts degree in spiritual direction from General Theological Seminary in New York City. She has worked with individuals and groups in spiritual direction for more than thirty years, focusing on active imagination. A member of the Metropolitan Opera Orchestra for twenty-six years, she now performs with orchestras across the South and lives with her husband, Frank, and their cats in Charlotte, North Carolina.
"With a gentle touch and gorgeous storytelling, Archer creates enchanting tales that weave and turn into unexpected places. Zeesha's questions teach us the steadfast and resilient beauty of God's love." – Elizabeth Isenhour
"This is the perfect story to encourage kids to get in touch with God, understand how God works in their own lives and acknowledge that God has a special purpose for each of us. It is a timeless reminder to keep listening for God's voice that is within all of us." – Amy Hanzal Kashi, MS
"Zeesha's Tale, by Mary Ann Archer, offers a delightful view of the Christmas [and Easter] story through the eyes of a donkey. Mary Ann reminds us of the interconnected beauty of all creation in a story for adults and children alike." – Kathleen Wiley
"A beautifully illustrated tale sure to be story time favorite. Zeesha learns of his noble ancestors, and that God has an even more important task just for him! This delightful book will be equally at home on the bookshelves of young families and Christian educators." – Beverly Johnson
"Love the premise of your story and the wonderful illustrations." – Ann Carlson, children's book author