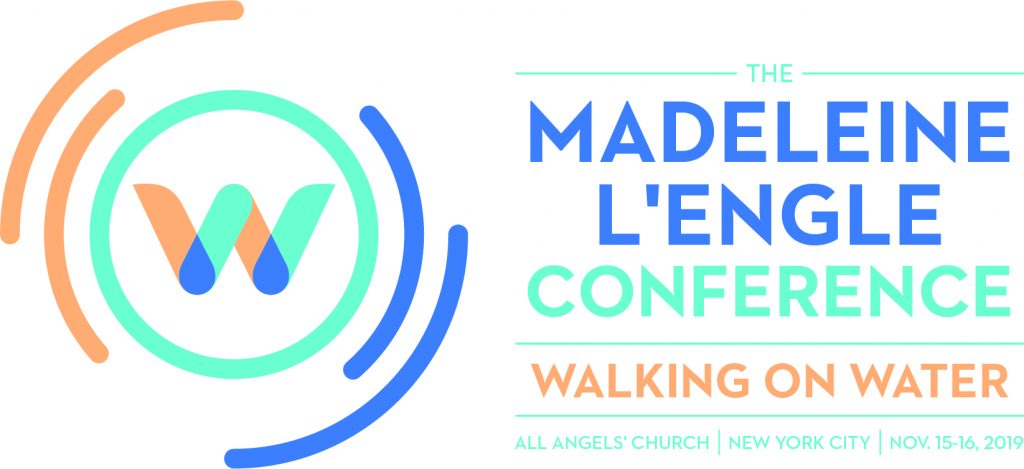 "In art we are once again able to do all the things we have forgotten; we are able to walk on water; we speak to the angels who call us; we move, unfettered, among the stars." Madeleine L'Engle, Walking on Water: Reflections on Faith and Art
In celebration of Madeleine L'Engle's centenary year, this inaugural conference brings together a diverse group of artists and seekers to explore, challenge, and deepen our creative lives. Just as Madeleine spoke fluently across boundaries that frequently divide us, the conference features speakers and welcomes attendees who are guided by the desire to ask questions rather than prescribe answers. The conference has a combination of keynote addresses, panel discussions, and workshops that will be of interest to people across faith traditions who are interested how faith and art inform each other. There will also be sessions on the works and influence of Madeleine L'Engle, and opportunities for alumni/ae of her workshops to reunite and share stories.
The main conference takes place on Saturday, November 16, 2019, with a smaller pre-conference retreat on Friday, November 15, 2019 (SOLD OUT!).  Both will take place at All Angels' Church, located at 251 West 80th Street, New York, NY 10024. Please be advised that All Angels' Church has multiple floors, and unfortunately none of them are wheelchair-accessible (see note below). Madeleine was a member of the All Angels' Church community.
Our headline speaker for the conference will be acclaimed children's author Katherine Paterson (Bridge to Terabithia, The Great Gilly Hopkins), with award-winning singer-songwriter Audrey Assad as Musician-in-Residence (Evergreen).
Other featured presenters include Newbery-Honor winner Veera Hiranandani (The Night Diary), NY Times bestseller Karina Yan Glaser (The Vanderbeekers series), film producer Catherine Hand (A Wrinkle in Time), screenwriter/producer David Paterson (Bridge to Terabithia, The Great Gilly Hopkins), L'Engle biographer Abigail Santamaria, as well as authors Sophfronia Scott (Unforgivable Love, This Child of Faith) and Ibi Zoboi (Black Enough, My Life as an Ice-Cream Sandwich). They will be joined by an exciting roster of artists, writers, novelists, musicians, biographers, filmmakers, playwrights, several of Madeleine's former writing students, and a team of authors from We Need Diverse Books.
L'Engle's former housemate and poet Barbara Braver, will be co-leading Friday's pre-conference retreat with Sarah Arthur (A Light So Lovely: The Spiritual Legacy of Madeleine L'Engle).
Co-directors of the conference are Sarah Arthur and Brian Allain (owner of Writing for Your Life). You can learn more about all of the speakers here.
Capacity for the Saturday Conference is limited to 200 attendees, and the Friday Retreat has sold out! But you can add your name and email address to the Friday Retreat waiting list here.
Click on the links below for additional information.
Conference Speakers and Leadership
Also Included: pop-up bookstore by Books of Wonder featuring selected books
Living By Words: A Retreat for Reading, Writing, & Reflection (on Friday, November 15; SOLD OUT)
Lunch options (lunch is not included as part of the conference)
By registering, all conference participants agree to abide by our Code of Conduct and Release Agreement.
Registration Now Open! Please register separately below for the Friday Retreat, Saturday Conference, and a boxed lunch for Saturday if you would like one. (credit cards, debit cards, PayPal, or PayPal Credit are accepted; all payments are processed through PayPal). After you pay, an email confirmation will be sent to the name and email address you enter into PayPal (or the one associated with your PayPal account) within 5 days. If you need to change the name or email address please let us know.
Friday Retreat – SOLD OUT But you can add your name and email address to the Friday Retreat waiting list here.
Click here to pay and register for the Saturday Conference – $169
Click here to pay and register for the special young adult discount price (ages 13-23) – $129 (please note that all minors must be accompanied by an adult)
Lunch is not included as part of the conference. You can explore the many options in the area.
A very special THANK YOU to our conference co-sponsors:



And to honored partners We Need Diverse Books, Books of Wonder, Stage Partners, and Macmillan.
All conference and retreat information are subject to change.
Note: The Madeleine L'Engle Conference and All Angels' Church take concerns about accessibility very seriously. All Angels' current building was erected at the turn of the last century as the church's Parish House, a location that has posed significant challenges for the congregation over the years. However the team is working on the possibility of audio recording capabilities for some portions of the conference free of charge for those for whom attending the conference is difficult or impossible. Stay tuned for those details. In the meantime, if you have specific questions or concerns, please feel free to contact conference@madeleinelengle.com. Thank you for your patience and understanding!