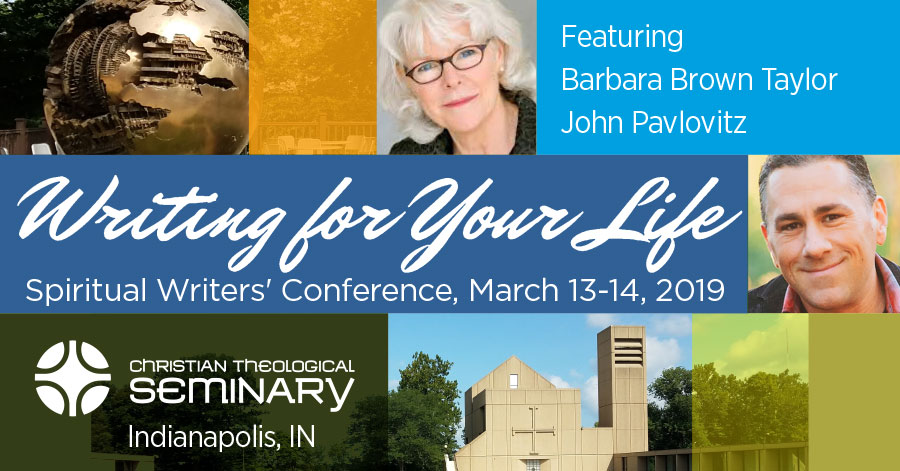 Be Inspired!  Looking for inspiration and practical advice to help your writing? Writing for Your Life and the Christian Theological Seminary welcome you to Indianapolis for our next Spiritual Writers' Conference! The conference is open to all who are interested in spiritual writing. This conference focuses on inspiration and craft for spiritual writing, with some "how to get published" thrown in. It includes popular Christian authors and representatives from the Christian publishing industry. The main conference will take place on March 13-14, 2019, with an optional pre-conference DigDeeper Retreat on March 12 (separate registration required). The conference and retreat will take place at St. Luke's United Methodist Church located at 100 W. 86th Street in Indianapolis.
Headline speakers for the event are authors Barbara Brown Taylor and John Pavlovitz. Leading our DigDeeper Retreat and two conference breakout sessions will be author Philip Gulley. Additional breakout sessions feature: Rev. Dr. Frank A. Thomas (author, preacher, and seminary professor), Erin Healy (author and freelance editor), Sophfronia Scott (author), Jessica Mesman (author), Susan Salley (Associate Publisher, Abingdon Press), Tony Jones (author and former Senior Editor, Fortress Press), Mary Benard (Editorial Director, Skinner House Books), Nathan Day Wilson (columnist with The Indianapolis Star and pastor), and Brian Allain  (owner of Writing for Your Life, who will speak about self/indie publishing).  You can learn more about each speaker through the links below.
Our conferences have consistently been rated 4.5 out 5 or higher. Below are a few comments from past attendees.
Regular price registration is $329 for the main conference and includes all General Sessions and Breakout Seminars, refreshments, 1-on-1 or small group meetings, and an open-mic session.
Registration Now Open! Click on this link to pay now (credit card, debit card, PayPal, or PayPal Credit are accepted; all payments are processed through PayPal). After you pay, you will be redirected to another page to complete your registration.  After you complete your registration, you will be sent an email confirmation within 48 hours.
Click on the links below for additional information.
Also Included: 1-on-1 or small group meetings, Open mic, Bookstore
DigDeeper Retreat (separate registration required; additional 0.5 CEUs available)
Writing for Your Life is pleased to offer 1.1 Continuing Education Units (CEUs) for pastors for this writers' conference. Writing for Your Life is a member of the Association of Leaders in Lifelong Learning for Ministry (formerly the Society for the Advancement of Continuing Education for Ministry).
All conference participants are required to abide by our Code of Conduct.
Registration Now Open! Click on this link to pay now (credit card, debit card, PayPal, or PayPal Credit are accepted; all payments are processed through PayPal). After you pay, you will be redirected to another page to complete your registration.
All conference information subject to change.
Comments from previous conferences:
Renee: The conference was life changing in the way you arrive somewhere and say "aha! THESE are my people!". Encouragement is catalyst for growth that is immeasurable.
Lydia: I just wanted to thank you for such an amazing conference! I know you put a lot of work into organizing it and it was very well done. I walked away with inspiration and information to move forward. Plus, I feel I gathered a good network of writers! I'm excited to continue using Writing for Your Life as a resource.
Lorri: Thank you so much for a tremendous experience.  This conference has opened up a significant new door in ministry for me.
Kate: I have been profoundly impacted – I think I will look back and see this as a major turning point. It felt like a homecoming.  Thank you again!
Renee: Thank you so much more for creating this kind of event. I will absolutely be attending again.
Laura: The Writing for Your Life conference was just what I needed.  It was inspiring and encouraging.  Thanks!
Connie: Thanks so much for all you did to bring everyone together.  I'd prayed beforehand about receiving discernment concerning how to proceed with my memoir.  I felt peaceful about my decision to go with self-publishing after talking with you and Greg.
Marjorie: What a great conference this week! Truly, the presenters offered a beautiful and useful variety of instruction and information. You did a masterful job of bringing the right people together and creating an atmosphere of hospitality and collegiality.
Esther: I am grateful and amazed at how helpful all the presenters were, how willing to listen to everyone's ideas and to suggest practical steps to move the work forward.
Lyndsey: The Writing for Your Life conference I went to was invaluable for wrapping my head around the road to book publishing. I got so much more done in two days in person than I had in a year or two Googling.
Susan: "Thank you for the tremendous experience. I learned something from every writer I met and came home inspired."
Kelly: "I can't thank you enough for the past three days. I don't know when I've attended a more worthwhile event. I have already followed up on several of the suggestions shared – and actually have heard back from one magazine editor!!"
Bill: I so much appreciate the one-on-one time you spent with me.  The fact that you were very busy running the workshop but still took a few minutes to chat about writing with me is a sign of your true character.  Again, thank you! In particular I wanted to let you know how one small piece of information you shared in your marketing for writers breakout that helped me beyond words.
Erin: "This group of writers and creative people have been a blessing to me. Thank you for putting on an excellent conference."
Martha: "I wanted to thank you personally for all you have done to pull together an inspirational and helpful event with the Writing for Your Life workshop. I appreciate the affirming people and presenters (including you!) who were so approachable and engaging. God crafted a beautiful thing here – and you listened and made it happen. Thank you!"
Sarah: "Everything about it exceeded my expectations, which were very hopeful in the first place. I could see and sense the care that was put into every aspect of the conference, couldn't have asked for a better experience"
Anonymous: "I couldn't have been more satisfied–it was such an interesting and inspiring two days and money well spent–truly the best organized gathering of this kind that I've ever attended. The whole process from online registration to now was a pleasure. Thank you!"
Anonymous: "It's great to be at a conference where many people are exploring, fleshing out what writing might look like in their lives. It's a safe, supportive environment for people all across the spectrum of writerliness. OK, that's not really a word, but it works. Thanks for creating that space."
Anonymous: "This is the first writing conference I've ever attended, but I've been to lots of conferences. This was very high quality and very well organized. The logistics were smooth and the spaces were very comfortable. All the speakers were excellent. THANK YOU!!!"
Libby: "I need to say thank you. I expected a much more critical and envious experience. I left feeling all the things I want church to feel like for people: valued, important, connected, beloved. God called me to this event. And I know now that God is calling me to write. Peace be yours!"
Donna: "It was one of the best conferences I've attended, and we've attended many"
Barbara Brown Taylor: "Working with Brian Allain is such a pleasure that it never feels like work. He is one of the most positive, creative, effective and genuinely kind people you will ever meet."