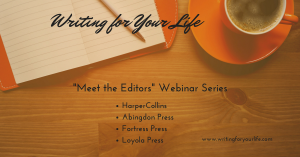 Writing for Your Life produces online webinars that feature leading spiritual authors and industry experts presenting on various topics in the areas of "how to write" "how to get published" and "how to market and build your platform".
"Meet the Editors"
Would you like to gain insight on how to get published? Would you like to understand what several Christian publishing houses are looking for in terms of types of books, authors, and topics? Register for this webinar series and find out! (The live webinars have already taken place, however you can watch the recordings at any time.)
Click here to register (PayPal or credit/debit card accepted)
Here are the editors you will meet:
View all 4 webinars for only $59.  The live webinars have already taken place, however you can watch the recordings at any time.
Each webinar is approx. 60 minutes including Q&A .
Click here to register (PayPal or credit/debit card accepted)
For future online webinars check back for further details or sign up for our email newsletter.
Recordings from our past online webinars are available for purchase here
What attendees have had to say:
Rebecca: These webinars were really wonderful. The information was exactly what I needed to know.
Carol: Thank you so much for providing these webinars. They are incredibly helpful and informative.
Katie: The advice you've published through your workshops, webinars, and Writing for Your Life emails contain so much good counsel.
Kerry: I just wanted to say how much I appreciate your program, its noble goals, its modest cost, and truly helpful content. Please keep going!
Kendall: Your conferences have been so valuable, I really appreciate them.
John: I so enjoyed the webinar series on social media marketing. I'll give it the best praise I can think of: it's already changed the way I approach marketing. I've relaunched my Twitter presence, given my website a long-overdue repositioning, and thought through some other things.
Angie: thank you for this conference.  You have provided us with excellent speakers, who have a wealth of knowledge, and I feel so fortunate to glean from their experiences.
Kim: the webinars have been wonderful! Thank you for arranging such an inspiring conference!
Sandra: Great webinar series!
Chris: Sarah Arthur was fabulous
Kelly: Brian, both of your presentations were great!
Edie: I watched it from Seoul and it was just great!!!
Kim: Rachel Held Evans, you are inspired and inspiring!! Thanks for sharing your learning and insight!!
Kendall: @LilCopan thank you for helpful guidance navigating the publishing world. You've made the 1st step much less daunting!
Pat: Chris Ferebee, THAT WAS AWESOME!!!
Anna: This is so wonderful! Just got done watching the first one and am ready to find the next! With many thanks! This is exactly what my writer needs right now…
Angie:  I thoroughly enjoyed your discussion with Fr. James and I'm looking forward to watching the other videos.  This conference is an amazing  idea.  I'm grateful for the opportunity to attend something like this–especially since I live in Alaska and conferences of this sort don't come around too often.
Martha: great presentation Jana and very inspiring!
Kendall: A great final webinar from @JonathanMerritt to close out @writing4urlife. Got that 'secret sauce' simmering, I'm ready to feast.
Anonymous (from the feedback survey): In all, I am absolutely pleased with the conference and so thankful for the opportunity to hear all the amazing presentations!
Linda: I have been really enjoying the webinars.  What an amazing group of professionals you have gathered together for this conference.
PAST WEBINARS
To purchase recordings from past webinars click here.
Inclusion in one of our conferences does not represent an endorsement of that person's religious or political views or those of their employers.