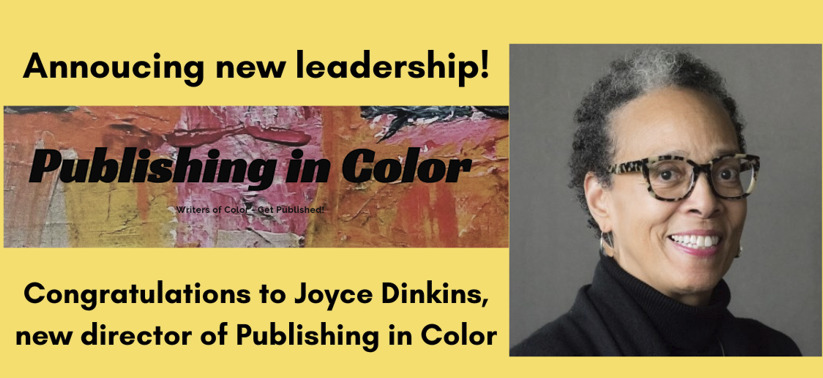 Writing for Your Life's new director Kate Rademacher, former director Brian Allain, and Joyce Dinkins announce that Joyce Dinkins Publishing, LLC will own and direct Publishing in Color (PIC), effective April 1, 2023. Brian Allain founded PIC in 2018 as part of Writing for Your Life, in order to increase the number of writers in Christian publishing who are Black and indigenous people of color (BIPOC). This also increases BIPOC representation among published works. PIC conferences encourage BIPOC writers, editors, and other content producers, and result in independent writing contracts, book deals, book contributions, literary agent / author relationships, magazine contributions, illustration contracts, diverse new resources, and flourishing publishing relationships. 
PIC provides scholarships for a select number of attendees to experience its conferences, and offers a stream of free publishing information and tools through regular email newsletters and social media content. Our Daily Bread Ministries, Judson Press, Guideposts, InterVarsity Press, HarperCollins, Tyndale House, Penguin Random House, Baker Publishing Group, Chicken Soup for the Soul, NavPress, P&R Publishing, and many other publishing experts have presented at PIC conferences. Literary agents Jevon Bolden, Barb Roose, Karen Neumair, Greg Johnson, Rachelle Gardner, and Sharon Norris Elliott are among those who have invested in conference workshops and appointments to open access to publishing to attendees.
Joyce Dinkins says, "In my role as an executive editor at Our Daily Bread Ministries 2015–2023, I have had the privilege of acquiring diverse writers, and developing resources by Black content creators and some Hispanic writers through VOICES. I've acquired Black Americans, AfroCanadian, Hispanic, and Asian writers for Our Daily Bread Ministries through PIC gatherings in New Brunswick, New Jersey; Los Angeles; Chicago; and through PIC's virtual conferences. I hope to build on Brian Allain's leadership and hard work, to carry PIC forward, and I am trusting in God's grace as He works through our publishing community."
"I am thrilled that Joyce Dinkins will now lead Publishing in Color," Brian Allain said. "It has been an honor to start the program and lead it through its first ten conferences. I have greatly appreciated the outstanding contributions from our publishing industry experts and conference attendees." Kate Rademacher adds, "We are blessed to have Joyce Dinkins own and lead Publishing in Color. I look forward to continued collaboration with Joyce to help advance Publishing in Color's goals."
Joyce Dinkins is a member of the Evangelical Christian Publishing Association (ECPA) subcommittee on diversity, equity, and inclusion; an ECPA Emerging Leader mentor; and associate director of the board of the Academy of Christian Editors. The American Writers and Speakers Association awarded Joyce as the fiction editor of the year and non-fiction editor of merit in 2014 and 2015, respectively. She has thirty-six years of experience in Christian publishing.
You can learn more at www.publishingincolor.com. The PIC Conference March 13-17 included more than 80 participants. The next conference will take place fall 2023 and registration will become available at the site. For more information, contact Joyce at: JoyceDinkinsPublishing@gmail.com
###